Hygiene Team
---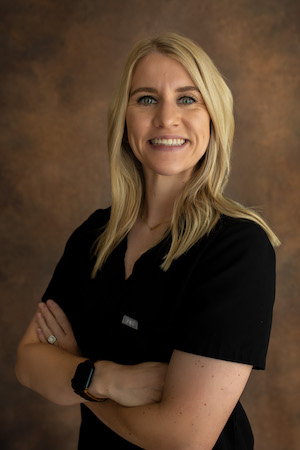 Chandra
I am a small town girl who has been married for 4.5 years to my awesome husband, Wille. Together we have an energetic 2.5 year old son, Witten. I made the move to Midland after completing my education in the field of Dental Hygiene in 2015. I joined the Coulon Dental team in 2021 were I quickly felt a connection to both my team and patients. It brings me great joy getting to know patients. I love watching their lives impacted and changed by helping them fall in love with their smile.
When away from the office, I enjoy chasing my son around, being outdoors, and working out.
---
Janie
Ever since I was a child, I wanted to work in the dental field. I thought teeth were cool and I enjoyed going to the dentist and maintaining my own teeth. So, having worked in a wide range of dental practices has not only been a rewarding profession, but it has been the realization of my childhood dream.
I am a West-Texas girl as I was born in Pecos, Texas and spent my formative years in Midland. I met my husband, Dr. Blake Hightower, at Midland High School and we have been married since 1982 (38 years and counting)! I have two children and three grandchildren. My daughter, Heather, is a second-grade teacher in Eldorado, Texas where she and her husband are raising my g-babies. My son, Matthew, works in the oil industry and resides in Carlsbad, New Mexico. He is only raising fur-babies at this point, but who knows…perhaps we will be blessed with more g-babies one day.
After having my two children, my husband and I moved to Denton, Texas. I had been an undergraduate Chemistry major at Sul Ross State University, but decided to focus on the dental field and I enrolled at Texas Woman's University. I received my Bachelor of Science degree in Dental Hygiene in 1990. Since graduating, I have worked as a dental hygienist in many wonderful practices. Although I have worked with great people throughout my 30-year career, I am most excited about working with the amazing dentists and staff members at Coulon Dental!
When I am not practicing dental hygiene, my husband and I enjoy cooking, riding bicycles, and spending time with our family, friends, and pets.
I truly enjoy working with our dedicated, professional team at Coulon Dental. It is exciting for me to go to work each day as we combine state-of-the-art methods, advanced technology, and compassionate care to create the best possible experiences for every patient…
P.S. I still think that teeth are cool!
---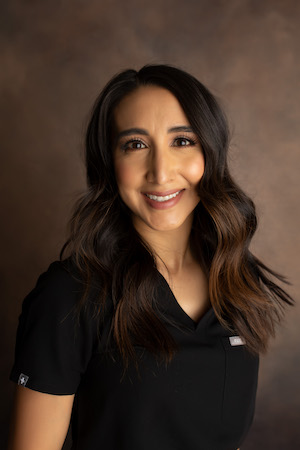 Karla
Karla was born and raised in Odessa, TX. She started as a dental assisting where she quickly became passionate about dentistry. Her passion inspired her to further her education by becoming a Dental Hygienist. She received her bachelor's degree in dental hygiene from The University of Texas Health Science Center in San Antonio in 2009. Karla got engaged in December 2020 and is expecting a baby girl in June 2021. In her free time she enjoys working out and spoiling her English bulldog.
Karla joined Coulon Dental in 2019. After working as a Dental Hygienist for 10years, she was finding herself burned out on hygiene. Once she joined the Coulon Dental team, it changed her life and she found her passion again for Dental Hygiene. The Coulon dental team have the same goals in providing the best dental care for their patients. She loves her dental team, it's her second family. The fun and relaxed atmosphere at the office makes her day easy. She loves helping her patients reach their goals to get a healthy smile. She's very detailed in her work because she wants her patients to get the best dental care and education.
---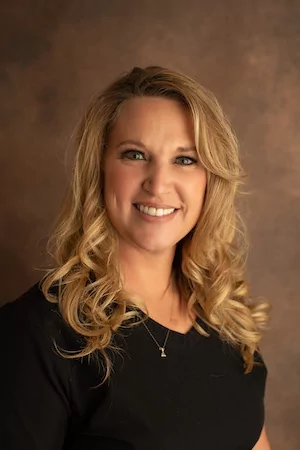 Kaci
Kaci is a born and raised Midland girl. She began her career in dentistry as a dental assistant in 1994. Kaci then chased after her dream of being a hygienist and graduated dental hygiene school summa cum laude from Howard College in 2000.
After more than two decades in dentistry, Kaci continues to find great joy in her work. People are her passion, and their health is what motivates her every day. She believes that each person not only deserves extraordinary care, but requires it – a principal she delivers on! Kaci is a women of uncompromising integrity and is dedicated to serve people with attention to their specific needs. She believes that people add value to one another and that every encounter is an opportunity to learn & grow. Kaci takes great pride in building strong relationships with her patients, whether they are seated in her chair, or shopping for groceries at the same store, she will always greet you with a smile and a warm hello. She is a daughter of the most high King, married to her best friend Nathan, and the proud mom of two beautiful girls Madison & Emily. When Kaci is not working she enjoys traveling, volunteering , and spending time with family & friends.
---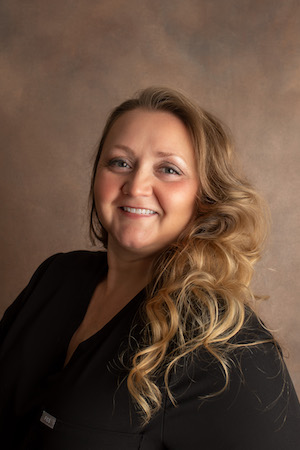 Cynthia
I am a native west Texan and started my challenging and rewarding career in the practice of dentistry 24 years ago, with the last 20 years as a licensed Registered Dental Hygienist. In my spare time, I enjoy cooking, traveling, fishing, golfing, and ranching with my husband of 27 years and I am blessed to serve on the missions team and sing on the worship team at our small church. I am privileged and humbled to serve as part of the amazing team at Coulon Dental, and I love building and maintaining a trusting relationship with our patients to help meet their dental needs.
---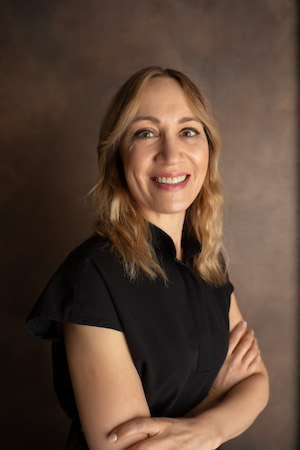 Ana
I have a genuine concern for my patients and love giving them the personal care and attention they deserve. I strive to be a wellness dentistry practitioner and emphasize whole body health throughout each appointment, and believe that a patient's smile and overall health are closely intertwined. I value the opportunity to help patients gain a deeper understanding of their oral health, and to help ensure they keep their teeth and healthy smile for a lifetime. Teaching and encouraging others to live a healthy lifestyle is my passion! I am committed to providing the highest quality dental care in a very personalized and comfortable manner. I am also dedicated to learning new skills, continuing my education, staying-up-to date, and routinely exceeding the required amount of continuing education classes, so I can grow professionally and serve you better. I look forward to meeting you and assisting you on a path of maintaining a healthy smile!
I'm originally from Belarus, married to an Aussie, and we made Texas our home. I'm a Mom of an amazing daughter who is currently in college. Outside of work I love spending time with family and friends, traveling and going on mission trips, listening to music, watching movies, playing games, always enjoying a good book, hiking and exploring outdoors, cooking, and growing plants.
---
Clinical Team
---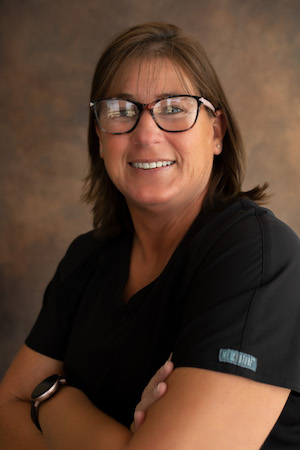 Amy
My name is Amy. What I love the most about my role as a dental assistant is being able to help people leave with a new smile and a different outlook on the dental industry. It is rewarding for me to sit down with the patient from beginning to end guiding them along the way through fears or questions they may have. I enjoy empowering them with knowledge about their health and what to expect throughout their treatment process. I entered the dental field in 2000 and had the privilege of joining the Coulon Dental team in 2018. I am excited about many years to come. Outside of dentistry, I am married with 2 sons and love spending time outdoors.
---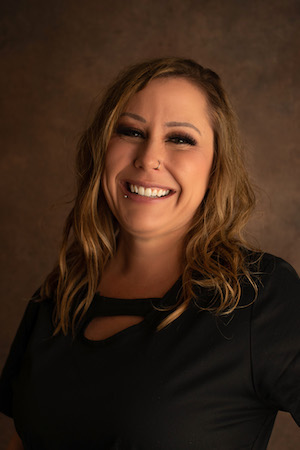 Bethany
Being raised in West Texas has instilled a work ethic in me that resonates within the community. Hard work has its benefits. One of those benefits is the ability to provide proper care in one's health. Entering the dental field in 1998 and becoming a dental assistant has allowed me to be a part of that process. It has been rewarding developing relationships with patients and seeing them in public settings knowing you played a part in their health and well-being. I have worked for Dr. Curtis Nicholson for 22 years where our patients have become like family to me. I am now blessed to call Coulon Dental my new home. I have 2 beautiful children, Keith & Mallory, that I have devoted my life to. I married the love of my life Quade in 2019 and moved to Garden City, TX where we live on our little farm with our goats, chickens, and various other animals. When not at work I enjoy going to my children's sporting events and spending quality time together. I hope to spend another 22 years with Coulon Dental serving the community on their dental journey.
---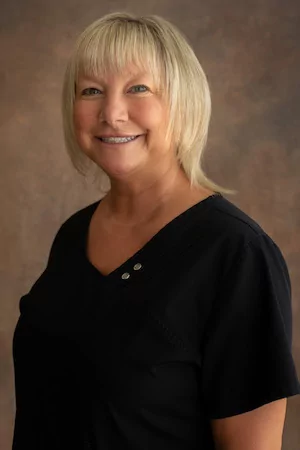 Kat
Kat was born and raised in North Carolina. She later moved to Tennessee where she raised her only son.
Kat began her career in dentistry in 1993. She has had the honor and privilege of serving many patients across several states. In 2021 she made her way to Texas and joined the Coulon Dental Team. Kat's passion for dentistry lies in the relationships she is able to build with her patients and views them as her extended family.
In her free time, Kat enjoys weekend getaways and time with her friends.
---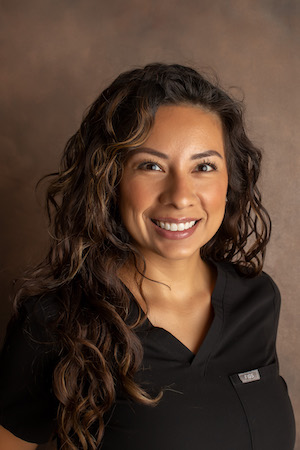 Jennifer
I'm sure I speak for more than myself when I say I've never been more proud than to be a part of The Coulon Dental team! My name is Jennifer. I truly believe God has a purpose for each of us and has placed certain individuals in our lives to help us with our own personal transitions. I believe my purpose here is to serve and help others through their transition with dental prosthesis. I was raised in Midland, TX and found myself back home after a transition of my own. I'm blessed with two children (a boy and a girl) and I'm engaged to marry my best friend who has a little girl of his own, together we have two fur pups. I look forward to planting my roots and spending many more years to come within this amazing organization.
---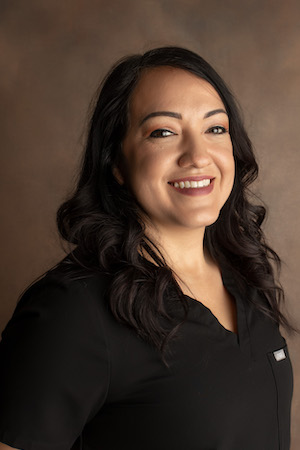 Vanessa
I am a loving, and hard working woman. I treasure time spent with my husband and 4 kids. I am quiet, but surprisingly witty; dad jokes are my favorite. I enjoy reading, and there is always music playing wherever I am if I can help it.
Born and raised in New Mexico I was taught the importance of hard work, and the power of a small act of kindness. I care about how I make others feel, and I try to be the friend I'd like to have in my life.
My heart is big, but my sweet tooth is bigger. I will likely never turn down a cupcake!
I am strong for my family, and I strive to lead by example.
I was meant to be a dental assistant because I get so much satisfaction from helping others. It truly makes me happy to help someone feel better. After 10 years, I still love being a dental assistant and I am excited to continue learning and growing. Being a part of Coulon Dental has given me the opportunity to have a positive impact on our community.
---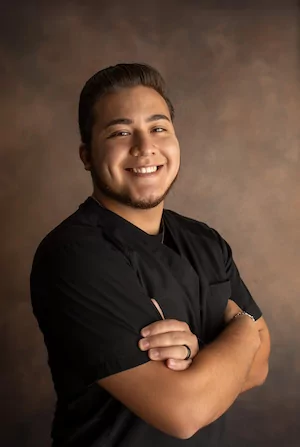 Juan
Born in Chihuahua, Mexico raised in El Paso, TX, Juan made Midland his home after meeting his wife with whom he shares 2 kids. His passion for dentistry began 5 years ago in a pediatric dental office where he spent time as a chairside assistant and was eventually promoted to office manager. Realizing how much he enjoyed being chairside to the doctor, Juan decided he wanted to go back to dental assisting. His desire to expand his knowledge in the dental field lead him to seek opportunities outside of the pediatric world of dentistry. Juan joined the Coulon Dental Team in January of 2023. Not only is he fond of the dental work itself, but he also enjoys the opportunity to meet and build relationships with patients. Watching the transition while having a hand in someone's dental journey is truly rewarding to him. When not at work, Juan spends his time woodworking, fishing, camping, and enjoying the outdoors with his family.
---
Administrative Team
---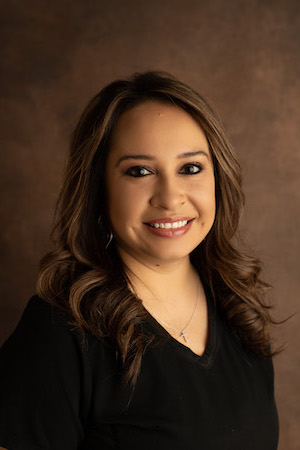 Lorena
Welcome to our practice!! Lorena is one of the smiling faces you will see in the front office. Lorena's dental career began 17 years ago as a dental assistant. In that 17 years she has filled many roles, from lead surgical assistant to office management. Lorena joined the Coulon Dental Team in 2018. Working with the best Doctors and such a tremendous team has been one of the most rewarding experiences in Lorena's dental career. Her knowledge of front AND back office allows her to communicate and work extremely well with her team to provide the best care and service for the patients. It is especially important that each of her patients enjoy a feeling of ease and confidence while in our office. Lorena has a strong belief that the only way to do great work is to love what you do. Her dedication and passion shine through daily.
Lorena grew up locally and is married to her high school sweetheart, George. Together they have 2 very active teenage boys, Ethan and Devin, and a very spoiled German Shepherd named Kardi. In her free time, Lorena enjoys cooking, working out and cheering on the Texas Rangers with her family!
---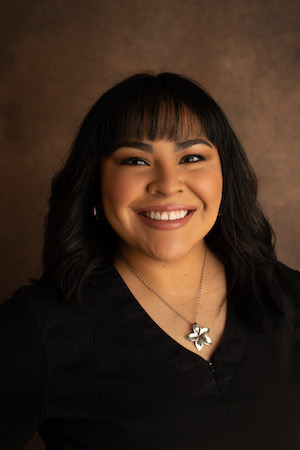 Flor
Flor Salgado was born and raised in Andrews, TX. She is the youngest of 7 siblings! Flor moved to Midland in 2009 to attend Midland College, soon after she made the decision to attend Kaplan College to pursue a career as a Dental Assistant. After nine years in the industry, Flor joined the Coulon Dental Team as an assistant and eventually transitioned to the front office. Her new position has brought her a lot of joy which is evident in the laughter you will hear while in our office. Flor loves the interaction her role allows within the team and of course with the patients. She is very eager to learn and apply new ideas to help her move forward in her role. The culture at Coulon Dental is something she has searched for since starting her journey in dentistry and would say Coulon Dental found her!
Flor met and married Andy Salgado in October of 2014. Together they have a Moyne poodle pup named Wrigley. She is a huge Chicago Cubs fan and even had the privilege of traveling with Andy to Chicago the year the Cubs won the World Series!! (GoCubsGo!!!) Outside of work, Flor loves being involved with her youth group and confirmation retreats at Our Lady of Guadalupe church. She also enjoys spending time with family and friends and running outdoors to relieve stress.
---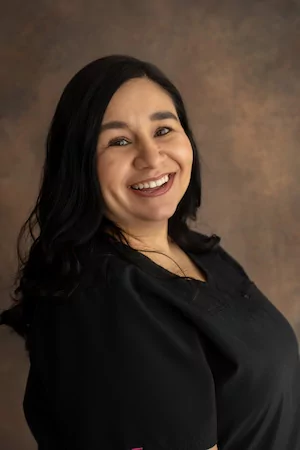 Veronica
Born and raised in El Paso, TX, it was only natural for Veronica to attend Carrier Centers of El Paso for her Dental Certification. Today, she has nearly two decades of experience in the field and truly enjoys transforming lives and helping patients. Away from the office, Veronica enjoys spending time with her two adult sons. She is also a newlywed and likes hanging out with their Chocolate Lab, Snickers, traveling, reading, and doing arts and crafts. Here's something interesting about her: she loves helping elderly people and making them smile!
---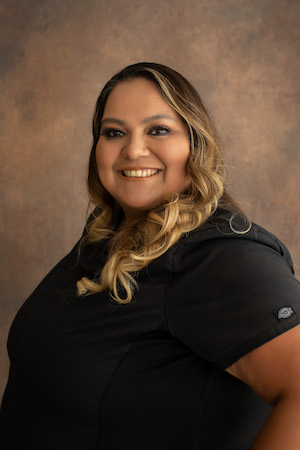 Angelica
Angelica was born and raised in Lamesa, Texas along with 3 siblings. She made Midland her home in 1999. Angelica is the mother of three young adults and is also helping raise their 6 year old brother. She has been in the dental field for a total of 8 years and enjoys seeing people leave with a confident smile. Angelica enjoys serving in her church nursery, reading books, watching a good movie, and spending quality time with her family.