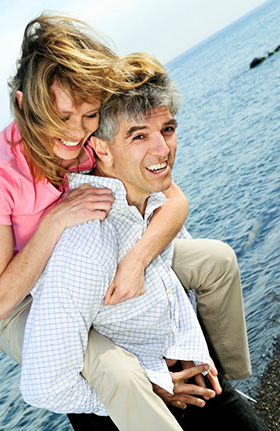 What are Dental Implants?
Implants are a safe, long-lasting restoration option for missing teeth. They are carefully crafted to resemble natural teeth in size, shape, color, and luster, so there is a good chance no one will know you have one!
The Dental Implant Process
Dental implants are comprised of two components: a titanium alloy post and a porcelain crown. Consequently, the installation process will have two stages.
First, the post will be inserted into your jawbone. We'll leave it there for a while so that your jawbone has time to absorb it. The post will stimulate the bone much like a natural tooth root would.
Once we're satisfied with the bonding between the post and the jawbone, the crown will be placed on top to complete the appearance of a natural tooth.
This implant process usually takes up to three appointments, and the results are stunning. Our porcelain crowns will feel comfortable in your mouth and prove durable under biting pressure, so you do not have to worry about them breaking or falling out.
Benefits of Dental Implants
Dental implants benefit the aesthetics of your smile and your oral health. Your jawbone will deteriorate if it is not properly stimulated by tooth roots, so missing teeth can cause the shape and symmetry of your jaw and face to change. Missing teeth can cause a person's face to sink inward. Dental implants keep the jawbone healthy and functional, and they preserve the natural fullness of your face.
A Solution That's Beautiful and Long-Lasting
If you've lost or damaged a tooth, dental implants may be the solution. Dr. Coulon will discuss your restoration options with you when you come in for your consultation. At every step of the process, your needs and desires will be carefully considered by our staff.
For more information or to schedule an appointment, give us a call or visit our office!