Traditional Dentures Custom-Made Just For You
Dentures are a commonly used prosthesis for the replacement of multiple teeth. Dr. Jonathan Coulon works hard to fit our patients with high-quality removable dentures. These dentures fit securely in your mouth and hold up to the everyday wear and tear of life.
Some people worry that dentures will look obviously fake, fall out unexpectedly, or prevent them from eating their favorite foods. Maybe that was true a hundred years ago, but thanks to modern technology, our custom dentures look, feel, and work like natural teeth. Now you can enjoy a brand new smile with a sense of security!
Benefits of Removable Dentures
Clearly, dentures can completely transform a person suffering from considerable tooth loss. They can reinvigorate your jaw muscles and bring a lively fullness back to your face.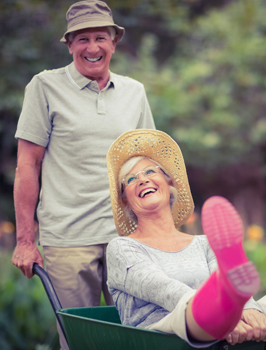 Besides a major boost to your self-confidence, dentures also come with a multitude of great health benefits. Empty spaces left behind by missing teeth can become fertile breeding ground for all sorts of harmful bacteria. Dentures ensure that your mouth gets the healthy traffic it needs to stay clean and infection-free.
Our state-of-the-art dentures at Coulon Dental come with great durability, appearance, and comfort. With proper care and maintenance, you will not have to worry about breaking your dentures or restricting your diet. Our goal is to give back what you lost: a fully functional mouth and a stunning smile.
Learn More About The Great Benefits of Dentures
If you have lost multiple teeth to trauma or infection, there is hope for restoration! Our removable dentures may very well be the most convenient and cost-effective restorative dentistry option for you. Come to our office today and take the opportunity to discuss your individual needs and treatment path in detail. It is time to smile again!